Brief History of The Brechin Mechanics' Institute
Object:
The object from the charities' constitution is to administer, maintain and promote the use of the institute in the interests of the inhabitants of and visitors to Brechin, and of Arts and Crafts, musical and educational societies, and similar bodies deemed by law to be charitable.
Architecture
Designed by John Henderson, Architect, son of a Brechin Castle gardener and founded in 1838, on the day of Queen Victoria's Coronation, the present building has changed little externally since it's completion in 1839. Internally, over the years, there have been many changes, both in terms of use and facilities.
The last major upgrade, in 2009, saw the installation of a lift, new disabled access and the relocation of toilets and kitchens, making the building more user friendly to the community groups who now form the core users of the building. The building was "vested in the City Council for the Common Good of the Burgh" in 1950 following requests from the then Managers and Patrons of the Mechanics' Institute.
Following the local council reorganisations of the 1970's, Angus District Council, "as an act of economy" decided to close the building. After a long period of negotiations it was agreed that the building would be leased to the newly formed "Brechin Mechanics Trust" who agreed to take on the management and responsibility for the continuing community use of the building.
The Brechin Mechanics' Institute Trust (Reg. Charity No. SCO 3031)
The Trustees and Management Committee are responsible for the day to day running of the building, the lettings, the internal conditions, the on-going internal maintenance and refurbishments. These form a constant rolling programme dependant on externally sourced funding. Much of the funding is secured from grants and donations with any surplus from rentals or functions being ploughed back into keeping the building a much loved, much used community asset.
The Mechanics' Institute (Plaque)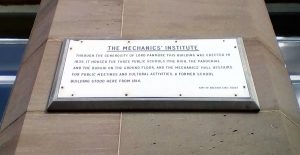 Through the generosity of Lord Panmure this building was erected in 1839. It housed the three public schools (The High, The Parochial and The Burgh) on the grond floor. And The Mechanics' Hall upstairs for Public Meetings and cultural activivites. A former school building stood here from 1814.
City of Brechin Civic Trust
The building was funded by the first Lord Panmure to house schools for local children and to provide informal education for adults in the form of lectures, exhibitions and concerts. The building is now run by the Brechin Mechanics' Institute Trust Management Committee.
Its halls and rooms are used for a wide range of social, educational and cultural events. The upper hall houses a display of portraits of influential local citizens and John Phillip's nineteenth-century painting of Robert the Bruce on the Eve of Bannockburn (featured on the main page), one of Lord Panmure's early gifts to the Institute.
Brechin Mechanics' Institute
St Mary Street, Brechin, Angus DD9 6JQ
Scotland